Labels

Blog Archive

Sunday, September 9, 2012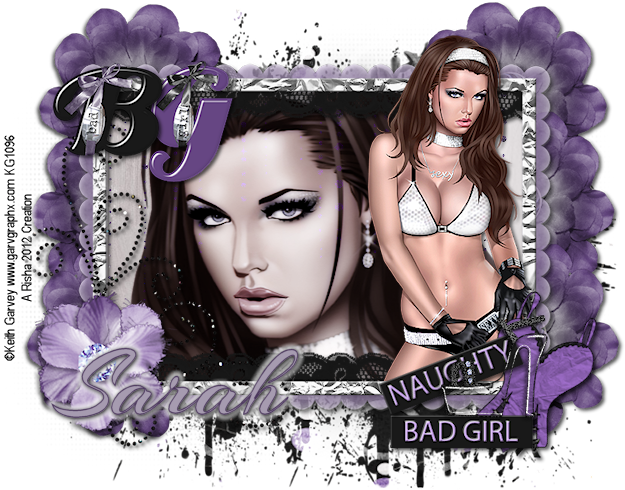 Bada Bing
This tutorial was written by me on September 9 using PSP X4. All my tutorials assume you have some working knowledge of PSP and/or Animation Shop.
Supplies:
Tube(s) - I'm using the art of Keith Garvey. You need a license to use his art which you can get at his store
HERE
.
Scrap Kit - I'm using a great PTU kit from
Designs by Sarah
called "Bada Bing". You can purchase this kit at
PMTw/S
.
Mask
Font - I'm using Arizonia
Filters - Xero Porcelain
To begin open tube(s) and mask in PSP - minimize for now
1. Open Frame 3 in PSP - shift+D to duplicate - close out original - canvas size 900 x 700 - new raster layer - flood fill white - move below frame
2. Click inside frame with magic wand - selections - modify - expand by 8 - copy/paste paper of choice as new layer - selections - invert - delete - copy/paste your tube as a new layer - position - delete - selections - select none
3. Duplicate your tube layer - on bottom layer change properties to Luminance (L) - on top layer - xero - porcelain - drop shadow your bottom tube layer and your frame layer
4. Copy/paste your tube again as new layer - position on tag - resize if necessary and drop shadow
5. Copy/paste any elements of your choice as new layers - resizing and positioning around your tag - I used bad word art, girl word art, naughty label, bad girl label, corset, and shoe - drop shadow each layer
6. Click on white background - copy/paste a flower of choice as new layer - resize and position behind your frame - duplicate 2 times and arrange (see my tag) - merge these layers together - duplicate - image - mirror - drop shadow both layers
7. Close out white background - crop/resize tag - add copyright/license info and name - save as .png
That's it! Thank you for trying my tutorial!!